The Importance of Preserving Democracy with Senator Mitt Romney
Jun 06, 2022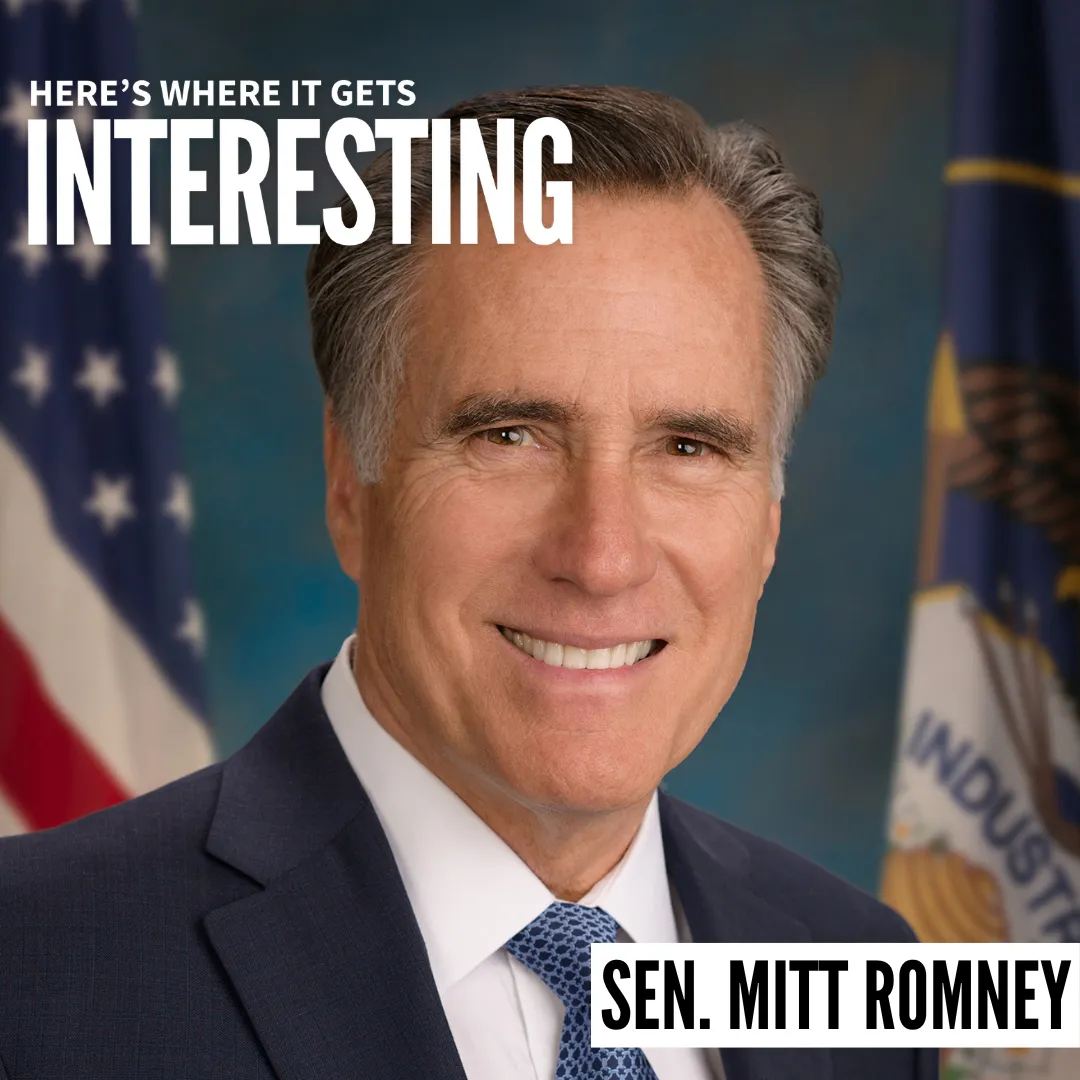 What does it mean when people say democracy is at stake? Sharon talks with listeners' most-requested guest, Senator Mitt Romney. A current Senator of Utah, Romney has a long history of public service, and chats candidly with Sharon about his unique personal history with business and politics, as well as advice his father gave him when he was young. Senator Romney also shares some insight into how Senate members are placed on committees, his interest and work in foreign diplomacy, and what he feels U.S. citizens can do to protect and uphold the democracy of our country.
Links to Full Episode:
About the Guest:
Mitt Romney was sworn in as Utah's newest Senator in January 2019. He currently serves on the Foreign Relations; Health, Education, Labor & Pensions; Homeland Security & Government Affairs; and Budget committees. On the Foreign Relations Committee, Senator Romney serves as Ranking Member of the Subcommittee on East Asia, the Pacific, and International Cybersecurity Policy. He is also a member of the Senate National Security Working Group. In 2021, he was honored with the JFK Library's Profile in Courage Award for his consistent defense of the fundamental principles of democratic governance.
Romney has earned a reputation for reaching across the aisle to advance major priorities that benefit Utah and people across the country. As part of the "G10" working group of bipartisan senators, Romney played a key role in enacting landmark legislation that makes a once-in-a-generation investment in our nation's physical infrastructure. In the midst of the global COVID-19 pandemic, he also helped lead negotiations on the Bipartisan Emergency COVID Relief Act—legislation that provided more than $900 billion in emergency relief to American students, families, businesses, workers, and healthcare providers. Romney continues to advocate for his bipartisan TRUST Act, legislation to rescue our federal trust funds—programs like Medicare and Social Security—from impending insolvency.
A leading voice on U.S. foreign policy and national security, Romney has warned that the rise of China is the central challenge of our time and pushed Congress and Administration officials to develop a strategy to better position the U.S. and free nations to counter this threat. The 2021 national defense bill included Romney's amendment that requires the president to develop a grand strategy to address the new era of geostrategic and geoeconomic competition with China. Romney also successfully spearheaded efforts to impose a U.S. diplomatic boycott of the 2022 Winter Olympic Games in Beijing in response to the Chinese Communist Party's grave human rights abuses.
Romney consistently works toward legislative solutions that will improve the lives of Utahns. One of his first legislative initiatives in the Senate was the introduction of the Navajo Utah Water Rights Settlement Act—legislation to bring running water to the 40% of Utah's Navajo Nation that currently lives without. This important bill finally became law at the end of 2020, and was fully funded with the passage of the bipartisan infrastructure bill. Finding ways to strengthen Utah's wildfire prevention and response capabilities has remained a top priority. Romney's Wildland Fire Mitigation and Management Commission Act was also included in the infrastructure bill. Over his Senate tenure, Romney has fought for the return of Utah's public land management to local communities—especially as the state's national monuments remain a political football.
Prior to serving in the Senate, Romney served as Governor of Massachusetts from 2003 to 2007. He also led the 2002 Salt Lake Organizing Committee for the Winter Olympics and, with a team of volunteers and managers, helped turn the struggling Games into a Utah success story. He was a candidate for the 2008 Republican presidential nomination and Republican nominee for president in 2012.
Before entering public service, Romney led a successful business career as the co-founder of Bain Capital, a leading investment company, and the turnaround CEO of Bain & Company, an international management consulting firm.
Romney earned his bachelor's degree from Brigham Young University and his JD/MBA from Harvard University. He has been the devoted husband to wife Ann for more than 50 years. They are the proud parents of five sons, grandparents to 25 grandchildren, and great-grandparents to one great-grandchild.


Related Links:
Episode Sponsor Codes:
Sharon Says So listeners get 10% off their first month at BetterHelp.com/sharon.